This is the page where you get to know the gory details about me ...

I was born in the city of Bombay..... once upon a time. No that won't do, there's no getting away from the date.
- Salman Rushdie in Midnight's Children.
Well then : It was the 9th of April 1974 an exact 38 minutes after the stroke of the midnight hour that I tumbled forth into the world.
A Palakkad Iyer parentage, a mixed traditional-cosmopolitan Mumbai up-bringing, education across diff places, a brief stint in freelance journalism, a career across different places and a really simply greeeaaaat friend circle are my quantifiable assets. Read on... !!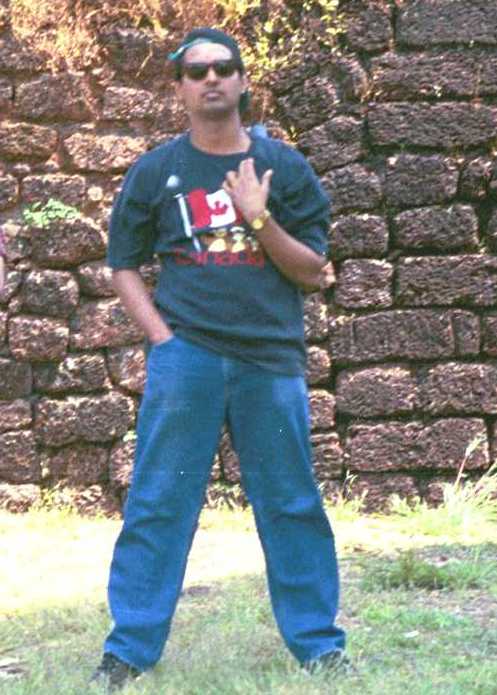 Was brought up in Mumbai itself and studied (hmmm, not really..) in Mumbai till Class 12th. Then I went to REC Surat (Gujarat) for 4 yrs and the rest is history. Battled malaria, the 1992 Babri Masjid riots, the 1993 Narmada floods and finally the "plague" in 1994. Not to mention the draconian professors of our Electrical Department who kept trying to flunk us. Finally with a BE degree and a big sigh of relief I left Surat and was in Hyderabad doing PLC programming. Hyderabadi biryani was too hot for me and besides that I had other ambitions.
Wanting to move up the value chain (no , not trying to zip up my jeans), I came back to Bombay and did my MMS Finance and joined Citicorp in 1998 (See resume for details). Quit Citi and joined Patni Computer Systems in 2000 , working largely on web based B2B, Retailing and SCM technologies with PCS. Quit PCS in April 2002 to join Accenture at their India Solution Center to work on offshore transitioning of projects for financial clients.
I like to go trekking, but find the climbing a little difficult :-( However I find the view from the top absolutely dashing. One feels almost transported to some heavenly place esp it is during the monsoons with a thick cloud and a light drizzle tickling your skin and senses. Been to Matheran (several several umpteen times over) Bhimashankar, Kalsubhai, Raigarh and Ponmudi.
Finally managed to cover Malshej Ghat and Rajmachi in 2002 (with REC junta) which have been long on the agenda. Vaishnodevi is a blissful trek cum pilgrimage trip. Given an oppurtunity I'd like to do this every year. Recently did Crowder's Mountain trek in North Carolina and Laurel Falls at Gatlinburg, TN.

My "To-do" list includes Manali, Gulmarg, Gangtok, Yumthang and Lachong. Not to mention rafting over some Class 5 rapids. Skydiving is something that I keep pushing myself to do but I guess I am chicken. Agar ooparwallah meherbaan raha to fir zaroor hoga aur to aur Mt.Titlis mein skiing and Great Barrier Reef mein snorkelling bhi. Kabhi na Kabhi zaroor jaayenge.. Mera number aayegaa !!
I know I may be asking for too much perhaps... but a Himalayalan trek to Gangotri / Mansarovar would be awesome.

I freak on ...

The smallest fleeting glimpse of a Aishwarya Rai poster/ wallpaper....
A smile from the lady herself in person would make me go ding-dong all over, it happened only once at St.Xaviers College Bombay - at Malhar 1994 albeit mademoiselle did not smile at me in particular :-(

Other things that I freak on...
Urdu Shaayri ... (although I understand very little of it, it sounds real 'shaahi' and royale wot ? )
Books : P.G.Wodehouse and deep stuff like Salman Rushdie, Ayn Rand

'Three Men in a Boat' and 'Leave it to Psmith' are the 2 most funny books I ever read. And in the serious category the award goes to "Atlas Shrugged" "Midnight's Children" and "A Time To Kill".

Raaz ki baat : I still gross out on comics especially Tintin and Asterix

Bryan Adams makes me Swing. GNR makes me roll. Kishoreda's voice for a lonely evening and Jagjit Singh for just any occassion. A.R.Rehman's score relaxes me while I work. Two of the most mellifluous musicals to me are Hoshwalaon Ko Khabar Kyaa (Sarfarosh) and Kisi Nazar Ko Tera Intezaar (Aitbaar)

Entrapment, Tomorrow never dies, Taal, Hum Dil de Chuke Sanam, DDLJ, Sarfarosh, Dil Chahta Hai, Viraasat, Ijaazat, Jaane bhi do Yaaron, Gol maal, Chupke Chupke, Choti si Baat are my fav screen blazers. Aamir, Naseeruddin Shah, Pierce Brosnan, Tom Hanks and Kamal Hassan are my screengods. Aishwarya, Kajol, Shobhana, Catherine Zeta Jones and Meg Ryan - the goddesses. Thiruda Thiruda, Roja and Minnale are some of my fav ones from the South.